As the adoption of Bitcoin grows worldwide, so do the tools to analyze transactions and spy on Bitcoin users as well. To counter this, anonymous currencies like Monero take over the role Bitcoin played in the past – as a reliable e-currency which provides anonymous payments to its users. Monero Sports Betting is becoming more popular – even though there are not too many Monero Sportsbook Websites on the market yet.
We have researched the most promising Monero Betting Sites for you and describe the pro´s and con´s of the different Sports Betting sites below, so you can make the best choice if you want to bet on Sports, Politics or just gamble with Monero.
1xBit Monero Sports Betting Website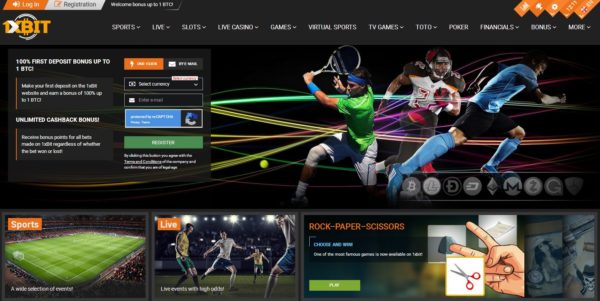 One of the websites that accept Bitcoin and Monero as a currency would be 1xBit
.com. If you have a ton of Monero that you are willing to gamble or play with then this would be the perfect website for you! Not only do they have casino games, but you are able to bet on live sports events depending on the country that you are in!How awesome is that? What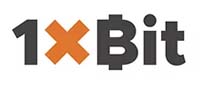 I love about 1xbit.com is the fact that they have the weirdest games that you are able to gamble with. To name a few, they've got Rock-Paper-Scissors game, and Thimble games, yes, Thimble. If you want an online casino that has variety, then this is the place to be!
The available games to bet at 1xbit.com are just awesome! So, for us to avoid confusion, we will be talking about their regular games and the awesome live games they have ready for the taking. First on the list would be the regular games. Here you are of course, able to play regular slot games through their "Slots" tab. The slot tab contains a selection of game providers, choose the most familiar one for you and start choosing the slot game you wish to play with. They do have a crazy amount of names to choose from, so just go with the familiar ones! They do also have a separate tab for Poker, which you are able to directly see at their home page.
The "Weird" games such like Rock-Paper-Scissors, Thimbles, and Russian roulette can be found under their "Games" Tab.
1xbit.com Live Games
Of course, aside from the games that have been mentioned above for, they also have a wide range of Live Casino Games which you are able to choose from. The available games are as follows, Roulette, Blackjack, Baccarat, Poker; they even have a separate tab for the Gentleman! Not something that everyone would welcome, but hey, we're just humans. You can access the different game providers through their "Live Casino" tab and choose which ones you like best, or just go through them all and go into the tables that you feel interested in.
1xbit.com Conclusion
They have a myriad of games to choose from! Not to mention, they offer games such as lottery and cock fighting, awesome right? They also have two full pages of live casino games wherein you are able to jump into each game and just observe the table before playing for real money or currency. What I like about this website is not the layout, but the options they offer. People can get easily hesitant when it comes to betting in online casinos, due to the number of options they get. At 1xbit.com, you wouldn't get that feeling as you are able to choose from hundreds of games.
Bet on Sports and more with 22Bet.com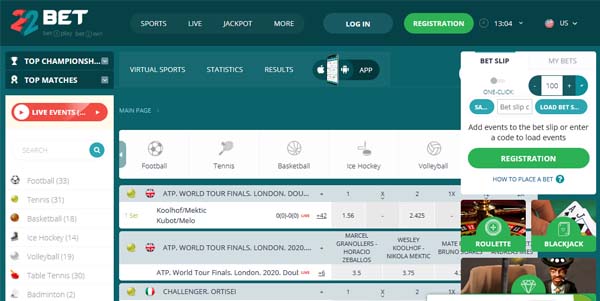 First, we need to create an account if you want to try out the games available to play here at 22Bet.com. The great thing as always is that 22Bet offers a wide variety of games that you are able to choose from!These games range from tables-games to slot games, they even have live dealers if you love playing with a live person, which I know I do!
22Bet.com Games
Right at the home page of 22Bet.com, you will be able to clearly see the available games you are able to play with. Are you a fan of automated dice?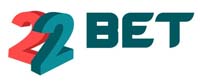 Well, you're in luck since here at 22Bet, you are able to play dice! The dice game they have can, of course, be tweaked into auto playing and you are also able to test the waters by using their free coins.
Aside from their dedicated Dice tab, you are also able to play Slot Games. Their available Slot Games range is arranged in different tabs from different game providers. With more than ten providers, the list of available slot games is just amazing! To name a few titles we've got, Diamond Wild, Fresh Fruits, Satoshi Secret, Aztec Magic Flash, Cherry Fiesta Flash, and a lot more!
They also have table games such as Blackjack, Poker, Roulette, and Baccarat which you are able to locate through their "Games" tab. Though there is no segregated table games tab, it wouldn't be hard to find the game you are after due to their useful search bar.
One of the most common questions of players would be if they have Bingo and Keno games available, and to answer your question, yes, they do have Bingo and Keno games available for you to play with. Not to mention, they also have a fortune wheel if you feel like the odds are on your side.
22Bet.com Live Dealers
The Live Dealers tab of the website doesn't fail to impress me; the number of tables to choose from is more than enough to go around with. They have Live Roulette tables, Live Blackjack, Wheel of Fortune, Poker Tables, Sic Bo, Luck 5, and Wheel of Fortune, for short, they have all the good stuff here! Compared to other websites that barely has five live games, they have two pages of it.
22Bet.com Promotions and Affiliates
Online casinos today should and always have monthly or daily promotions on which a regular player can look forward to. This enables the player to keep on spending on that particular website due to the fact that they know one way or another; they would get their money back. With up to 130% rebate for your first deposit, it is not that hard to get locked into this website.
Aside from getting rebates on the money that you are going to deposit, you also get the chance to earn passive income with them. If you have a bunch of friends that love to play in online casinos with crypto currency, then this is the chance that you wouldn't want to let go. With up to 50% commissions, it would be near crazy not to invite people at Fortunejack.com!
22Bet.com Conclusion
Free Play, fast and responsive games, commissions and rebates, what else is to ask? The only problem I see with this website is the fact that the design itself is not great, not even good. Why? The games are all jumbled up and are not arranged properly. They have too many tabs which are unnecessary and creates chaos with a properly thought out website. But aside from that, they have everything you need, from Dice games, roulette, to even Bingo and Keno! Not to mention, they have FREE PLAY, which is of course always a welcome note. Their support runs on Live Chat, which is also a bonus.
Not a Monero Sportsbook but a great Monero Casino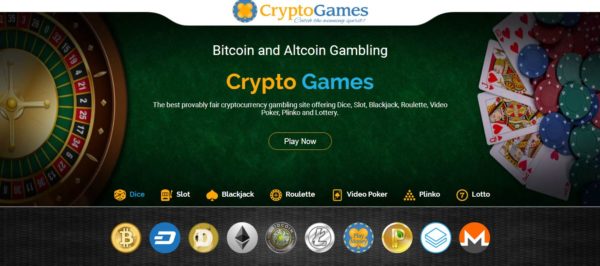 Crypto.Games has been operating since 2014, with their stable operation; it is not a surprise that this website of limited choices is still around until this day.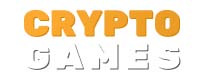 They do not offer any live games, but they instead offer stable game selections that you are able to come back to if you're looking for a website that has the basic games for gambling.To start playing a game, you just need to visit their website, click on the available tabs and choose which currency you want to use to put a wager at.
Crypto.Games Games
You are able to choose from seven major tabs. These tabs are Dice, Slot, Blackjack, Roulette, Video Poker, Plinko, and Lottery. The Dice game they have is similar to the ones that you usually see in Dice game websites out there today. The automated dice works just as what other websites offer and this is the one wherein you are able to choose your bet size, adjust your payout depending on how much you are willing to bet on, and of course, play with auto bet if you want to.
There is also one available Slot games you are able to play with. The slot game available at Cryptogames would be the traditional slot game you usually see. They of course have Blackjack, who doesn't want to play Blackjack? They do not have any spin offs of the game but it surely is enough to pacify your Blackjack needs. For their Video Poker tab, they have Jacks or Better. You can read more about here.
Aside from the mentioned games above, they also have a lottery game but sadly they do not accept Monero as a currency for their Lotto game. The only accepted currencies would be Bitcoin, Doge, Ethereum, and Litecoin.
Crypto.Games Conclusion
The website is straightforward and needs a lot more options to choose from! But I guess that is not the goal of this website. They strive for their simplicity, which can be seen on how many years they have been already operating. The only problem I see about their website is that they do not offer FREE PLAY, which is not good in my book.